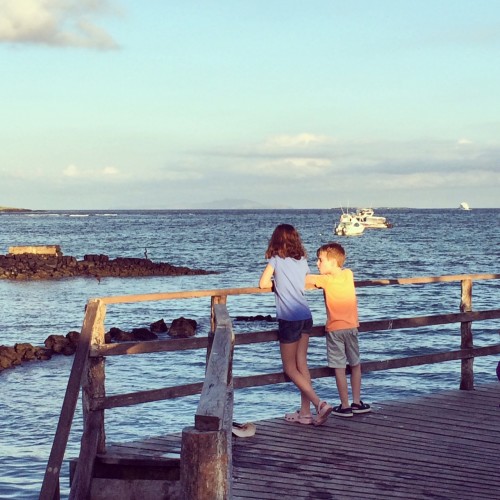 We had a spectacular spring break.  The trip to the Galapagos was more magical than our everyday life, of course, and Grace and Whit, sponges that they are, soaked it all up.  As we headed home, on the last morning, Grace was tearful. In the airport lounge (as we embarked on what would be a full 24 hours of travel) she looked at me with mournful eyes.  "I don't want it to be over," she said, hugging me hard.  I nodded, my own eyes filling with tears.
"Why does it have to end?  Why does it have to be so sad?" she asked me, her voice muffled against my shoulder.  A wry smile flitted across my face, though she couldn't see it.  Why does it?  This is something I ask myself every single day.
"Oh, Gracie.  You can't have one without the other," I said.  She pulled away and looked me in the eye, a question in her face.  "You know, the amazing experience is part of it and then being sad it's over is the other part."  She nodded silently, chewing her lip.  We sat in silence, the huge ceiling fans in the Guayaquil airport spinning slowly overhead.  I watched Grace's knee jiggle as I thought of the two edges of this world, of the joy and the sorrow, of the beauty and the pain, of how inextricably linked they are, of how ambivalent I feel that my daughter is learning this lesson already.
******
The last night of break, Whit came out of his room a few minutes after I had tucked him in.  I walked him back into his dark room and sat down on the edge of his bed.  "What's on your mind?"  His cheeks were wet and he had clearly been crying.  He shook his head and I waited.
"I want to go back to the Galapagos, Mummy.  And I am just sad.  Sad about everything that's over."  I stroked his blond hair off his forehead.  "I'm sad we're not going back to Legoland."  I nodded.
"I know, Whit.  It's always sad when things are over."  I had a lump in my own throat as I spoke.  Over and over again, Grace and Whit seem to go straight to the heart of all the things I find the most difficult.  This is what they do: they drag me to confront the emotions with which I most struggle.
"So many things," he hiccuped, "that didn't seem that much fun at the time, like the hot slow bus to the turtle farm, or the long layover in Guayaquil, or the flight where we didn't sleep…" his voice trailed off.
"Or that lunch in Puerto Ayora when you were so cranky," I offered, and a small smile cracked his face.
"Yeah.  All of those things.  They didn't seem that much fun when we were going them, but now I miss them all."
Happiness isn't something you experience; it's something you remember. – Oscar Levant
I read this quote the day after that bedtime conversation with Whit, and I think it's saying what he was, too.  So often things take on the sheen of joy after the fact, their memory burnished with something that wasn't necessarily there as we lived it.  I don't think this is a bad or a sad thing, though it does make me more aware that the experiences that feel like a slog (and Whit is right, that long bus ride back and forth across Santa Cruz qualifies) often become cherished memories.
It's all connected, all of it: the delight and the sorrow, the experience and the memory, the difficulty fading into the background as the joyful center of an experience moves to the front.  You can't have one without the other, of any of these dualities, of that I'm sure.  It's a bittersweet thing, to watch my children learn this, and they both did on our trip to the Galapagos and in its wake.  And it's something I'm still learning, too.