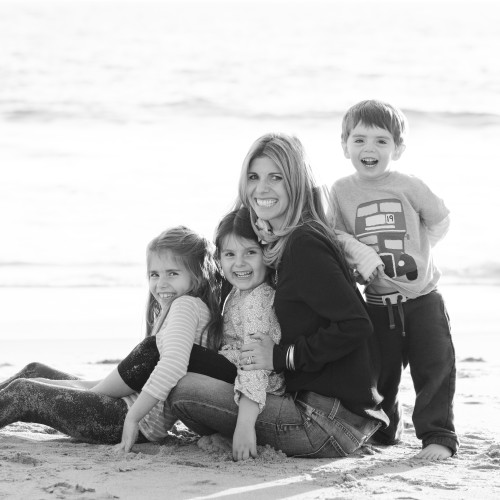 Today it's my honor to bring you Samantha Ettus as my second featured interview in my How She Does It series.  Samantha, an expert on lifestyle and parenting, has written four best-selling books and hosts a radio show called Working Moms Lifestyle.  She and her husband have three children.  I have long been a fan of Samantha's work, and just wish we'd met when we overlapped for a year at business school.
Tell me about the first hour of your day?  (I often describe mine as being "fired out of a cannon")
I think of it as a two and a half hour stretch of non-stop mission and movement. My three year old is my alarm clock. If I am lucky, he comes in post-6am. My husband and I have an upstairs/downstairs division of labor. I wake the girls, get them ready for school and send them downstairs where he has prepared breakfasts and is busy doing lunchboxes. Then I get showered and dressed and walk the girls three blocks to the bus stop, return to get my three year old dressed and drive him to his school. By the time I am done with that drop off, I feel like I have earned my Starbucks.
Do you have a work uniform that you rely on for getting dressed?  What is it?
I moved to LA a little over two years ago so my uniform has been west coastified. It is now jeans and Isabel Marant boots and a yummy sweater. If I have meetings or a TV appearance it is a shift dress and heels.
How do you and your spouse resolve conflicts about scheduling?  
We have rules that we have created together and do our best to follow. No traveling at the same time is a big one. We do our best to map out business travel in advance. I am in charge of the social calendar so that all goes through me. As for unexpected daily issues like a home from school sick child, it all depends on where our careers are at the moment. Right now he is in start up launch mode so much of that will fall on me. If I am traveling it will fall on him.
Do you second-guess yourself?  What do you do when that happens?
I am definitive sometimes to a fault. My life has too little wiggle room to accommodate second guessing.
What time do you go to bed? 
Between 10:30 and 11.
Do you exercise?  If so, when?
Never. It is the one thing that has fallen by the wayside. But I have big exercise plans for the future!
Do you cook dinner for your kids?  Do you have go-to dishes you can recommend?
When I became a mom I had no experience in the kitchen except in watching my dad ,who is a great cook, make dinner for us each night during my childhood. When I had my first child eight years ago, I aimed to have five dishes that I could make easily. At this point I have only two – maple soy salmon with rice and a great spinach and cheese lasagna. I have kind of stalled at two and need to add those other three. I fill in the other nights with take out or pasta or fish sticks or those quick prep kind of things.
Do you have any sense of how your children feel about your working?
They are very proud of my work. I intentionally talk about my career in front of them because I think it is important that they see how much I love it so that one day they will find careers they love and are proud of. Last year I brought my then seven year old to see me interviewing gold medalist Kerri Walsh and she was quoting Kerri the next day. She had really absorbed her message. Another time I was discussing logo designs for my company. My daughter disappeared for a half hour and returned with three logos, one of which I sent to my designer and became the inspiration for my logo.
What is the single piece of advice you would give another working mother?
Stop striving for balance, having it all or juggling. All of those are impractical and unachievable measurements. Instead of beating yourself up about how you spend your time, focus on what you do with the time you have. Your time allocation probably can't change too much but the way you spend and enjoy your time with your kids and your time away from them can.
And, inspired by Vanity Fair, a few quick glimpses into your life:
Favorite Artist? Too many to name. I am proud of my friend Stephanie Hirsch (http://www.stephanie-hirsch.com) and her inspirational art. She is becoming huge.
Favorite jeans? Hudson, Mother, and Current Elliott
Shampoo you use? I get a lot of blow outs. When I shampoo at home it is Biolage or Fekkai.
Favorite book? The Fountainhead. Anna Karenina. Open by Agassi. I just read Mindy Kaling's book and loved it.
Favorite quote? No is just a slower path to yes.
Favorite musician? I am an unabashadly top 40 girl. I love Justin Timberlake, Ellie Goulding, Madonna. And right now I am super into Kaskade.
Favorite item (toy, clothing, or other) for your children? I don't believe in decorating children. Clothing has to be comfortable enough to muck around in and not too precious to play in the mud. They live in Mini Boden.

This series is inspired by so many working mothers I have read about and personally witnessed.  One of the most influential is a series on working motherhood called I Don't Know How She Does It on the blog What Would Gwyneth Do.