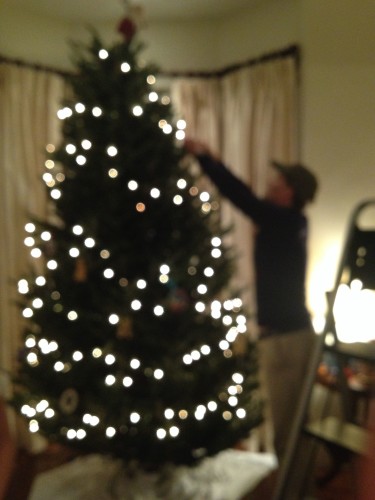 The days tumble with meanings. The corners heap up with poetry.
I've been reading a lot of Annie Dillard lately.  And this line keeps running through my head (from Teaching A Stone to Talk).  A few years ago I wrote about how our family marks this holy season, this time that is simultaneously so sacred and so hectic for many.
I enumerated the traditions that mark this month for me: the large boxwood wreath on the door with the celadon satin ribbon, the advent calendars, the early, and glorious sunset through the bare branches of the tree outside my office window, the Christmas carols that I have on repeat these days.  I also described my effort to simplify this season which has now moved from new focus to established pattern.  Most people find December crazy.  Yes, I'm aware of more tasks than usual (cards, and gifts, and wrapping) but I don't feel that much socially busier.  I think people just don't ask us, maybe.  It's okay.
This pulling back on craziness makes me more able to see that every day is crammed with holiness.  And this is especially true right now in these days limned with tradition, carols, and cookies.  I'm ever more grateful that I've resisted the mayhem that can pull like a tide in December. Every night I sit and gaze at our tree and feel the quiet around me I'm glad that I said no to something.  Equally, the celebrations I attend and the rituals I do participate in all mean so much to me now.  It feels different to attend an event out of deliberate choice than out of obligation, don't you think?
Last night we trimmed our tree (see Matt hanging an early ornament, above – somehow the blur feels appropriate).  My mother joined us, which was lovely because I have such vivid memories of our childhood Tree Trimming parties.  Everybody was tired and cranky, though, and Grace and Whit were bickering, and my patience felt frayed.  It was not our most peaceful or most joyful evening, to be honest.  Yet there was still Grace and Whit singing Silent Night for us, their little voices quavering and mis-pronouncing "yon virgin" as "young virgin."  There was still the coffee table piled with ornaments, each one carrying a memory.  There was still our crooked tree and imperfect lights, that I could see over the flickering candles on the dinner table.
It feels like a broken record, maybe, my assertion that there is so much glory and meaning in this ordinary life.  I'm sorry if so.  Every day it seems like there is cloud, and majesty, and awe (my favorite line from Oh Come, Oh Come, Emmanuel).  By stripping away at so many of the extra busy-ness this time of year, I can hear the glorious song of old (It Came Upon a Midnight Clear).  And I never, ever want to stop seeing, and hearing all this beauty.  The poetry and meaning in every corner of my life.
How do you mark this season?