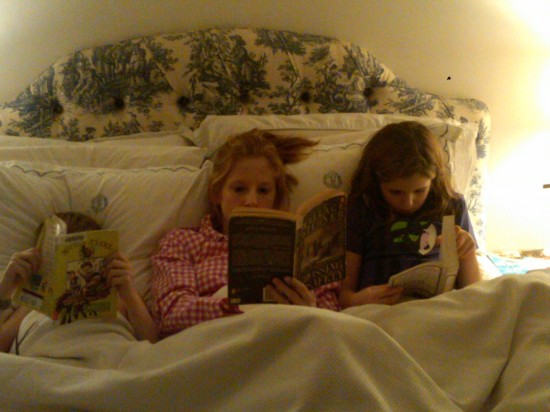 These days, it seems like I cross a threshold every day with my children.  Last this, first that, yes, yes, and yes.
This summer, for the first time, Grace began recommending books to me.  First, she suggested that I read Wonder by R.J. Palacio.  I was resistant (I don't know why) and she kept insisting that I'd love it.  Finally I read it.  I loved it.  We talked about it at length and still refer to Auggie all the time.
This month, both Grace and Whit recommended that I read The One and Only Ivan by Katherine Applegate.  I read it.  I loved it.  All three of us talked about it, and I applauded them for suggesting to me such a great book (books, in the case of Grace).
And last week we had a long conversation about books.  About what we love and what we don't and why certain books really appeal to certain people.  I told them that the ability to recommend a good book to someone else is a quality I very much appreciate in a friend, and something I was proud to see that they were both developing.  I also told them that it's one of the things I love most, when others ask me for book suggestions.
It's not a secret that I love to read.  I can't even count how many posts I've written about books, reading, quotes, authors.  When I enumerated the ten things I most wanted Grace to know when she turned ten, one of them was "reading is essential."  And for me, it is.  So part of my pride when Grace and Whit suggest books to me is that I know they too are finding this passionate attachment to the world of literature.
But it's more than that, too.  It's about the desire to share good books and the wish to make sure powerful words and stories are read by as many people as possible.  Any evidence that my children are beginning to understand the importance and value of stories makes me happy.  As Dorothy Allison says in Two or Three Things I Know For Sure:
Two or three things I know for sure, and one of them is that to go on living I have to tell stories, that stories are the one sure way I know to touch the heart and change the world.
I share this conviction.  And when people ask me for a book recommendation, I feel like I'm sharing this belief in a small way.  So it makes me happier than I can express to see my children beginning to do the same.
Do you believe in the story?  Do you like to suggest books to other people?  What are you reading right now?