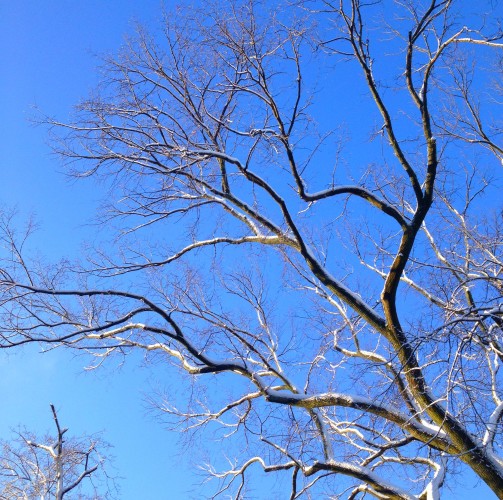 Winter morning light on bare, snowy branches: one of the things that makes me feel most powerfully a sense of mingled doubt and faith.
I think I've decided that I won't have a word this year.  But if I was going to have one, it's pretty undeniable what it would be.  The word doubt has been presenting itself to me for the last several weeks.  Insistently, even.
There was this quote, which I saw on the wall of a dear friend's house right before Christmas:
"Who never doubted never believed; where doubt, there truth is.  It is her shadow." – Philip Festus
Naturally, these words reminded me of Anne Lamott's famous line, which I think of at least daily:
"The opposite of faith is not doubt, it's certainty." – Anne Lamott
And then Ronna Detrick, long a spiritual guide and teacher to me, wrote about doubt recently.  Her words reverberated around my head and heart with an undeniable familiarity, with the clanging echo of something I should listen to.
I keep returning to one image, which is of the way I can navigate my house in the dark.  Whether it's going to the bathroom in the middle of the night or walking around the basement when the lights flicker off by accident, I know exactly where things are.  I know how many steps it takes to get here, where to put my hand, when I need to duck.  This house, where I've lived for eleven and a half years, is as familiar as the back of my hand, its contours and lengths so well known I can move among them with my eyes closed.
I always thought of that as some kind of manifestation of my comfort with doubt, that sense of familiarity with the dark, of being able to navigate without clarity.  Doubt, which I know so well, which fits me like a well-worn shirt.  Doubt, which keeps presenting itself to me these days, over and over.
But maybe that is just the other side of faith?