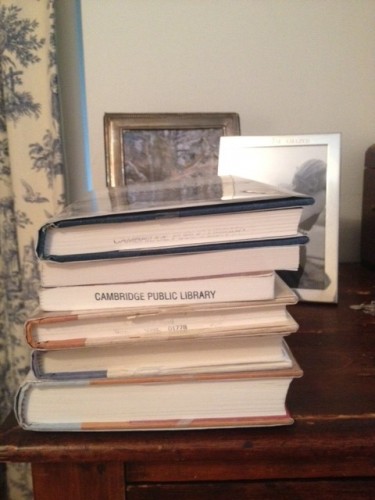 As anyone who knows me will attest, reading is my favorite thing to do.  Talking about books is a close second.  We are spinning into that season that seems synonymous with reading, and I'm eager to know what is on your bedside table.  Please share books you've recently read and loved, and what is next in your queue.
I've been reading a lot of fiction lately, and also I finally read – and adored – Cheryl Strayed's Wild.  Dani was not wrong when she said it was going to be a huge book, and one that would touch people deeply as well.
My stack currently holds the following but I would really love to know what you recommend:
Fahrenheit 451, Ray Bradbury (I worship the man, and somehow, oddly, have never read this)
The Selected Poems, Wendell Berry
I Couldn't Love You More, Jillian Medoff
Virgin Time, Patricia Hampl
The Writing Life, Ellen Gilchrist
Memory Wall, Anthony Doerr
Gone, Cathi Hanauer
I can't wait to hear what you're reading!