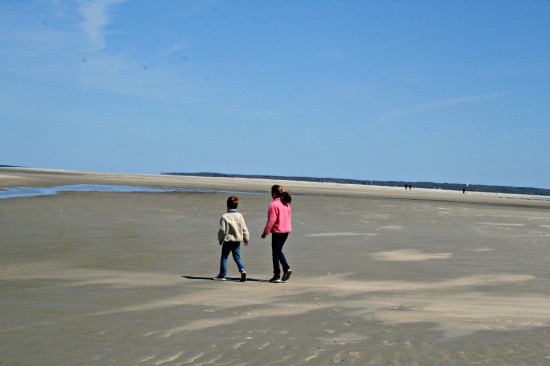 On the very last full day of summer vacation last year I took Grace and Whit to one of my very favorite beaches, about an hour north of Boston.  We swam and built castles, wrote our names in the wet sand, and generally danced with the tides.  The day was nothing short of magical and remains one of my favorite memories of last summer.
This past weekend we went back.  It was crystal clear and chilly, and a fierce wind gusted over us.  The beach was nearly deserted and the tide was out.  Grace and Whit ran ahead of us, picking up driftwood walking sticks and leaning over to examine the empty, barnacle-crusted shell of a horseshoe crab.  We all admired the ripples in the sand, noticing with wonderment how quickly – and temporarily, because the tide comes back in and erases it – the wind leaves its mark on the earth.
My parents often took Hilary and me on outings like this when we were kids; I thought of that as I watched my own children run on the packed sand, their coats flapping behind them like capes.  The years collapsed, as they so often do, and I marveled at how enormous swaths of life can sometimes compress into mere moments.
It was cold, my eyes were watering, my hair was flying in my face, but I felt a tremendous, surpassing peace for that hour on the beach.  I love the coast, drawn as I am to liminal places, to the border where one world melts into the next.  I am happiest near the ocean, that much I know for sure.  The weather and time of year doesn't matter – in fact in many ways I prefer the beach off season, when it is more likely to be empty.  I just need to stand beside the ocean, to listen to the roar and the murmur of water and land meeting, the boundary between them mutable, redrawn every moment as the tide shifts back and forth in an echo of the waxing and waning moon.  And so, on Saturday, I did.