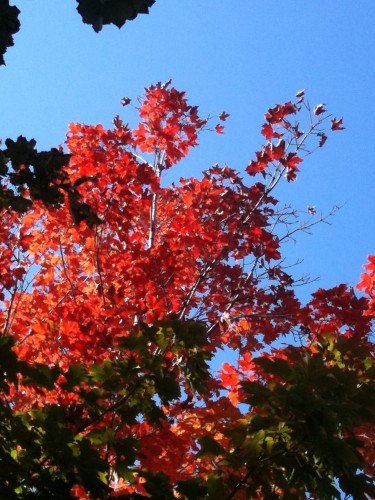 During September I got several signs from the universe to slow down.  And then in early October, another.  And so I listened.  I took to my bed.  For the first week of October I slept.  Oh, wow, did I sleep.  8-9 hours a night, and naps every day.  I was – and still am – exhausted.  I turned inward.  I didn't write.  I hardly read anything other than magazines.  Mostly I rested in bed, and talked aimlessly to Grace and Whit, and  rested in bed some more.  And I cooked.  I'm doing another cleanse, like the one I did this summer, but this time for a month.  So I have to cook a lot.  I enjoy cooking, so that's okay, though the confluence of exhaustion with demands to be in the kitchen was a little daunting.
I'm still feeling very inward.  I wonder if I'm contradicting what I just said two days ago, about how we must not hoard our spirit and our love.  But I don't think I am: I am just saying, to myself, that for now, things need to happen at my cadence.  Which is different than normal.  This past weekend I slept and slept some more.  And I went out with the kids twice – once to go apple picking, and once for a notice-things walk in the blooming fall foliage.  Each time I had to go home and lie down after, so exhausted was I from the physical, emotional, and mental exertion.  But it was gorgeous to be outside.
And, as usual, the words of someone far more articulate and brilliant than I came to my mind:
I went to the woods because I wanted to live deliberately. (Thoreau)

Right now, it's all about the sky, the trees, the leaves, my children, and my bed.  I go out when I need to – for work, for example.  But I am feeling fragile and quiet, bruised and wary, sensitive and somewhat sad.  What is new for me – when I really think about it, astonishing – is that I don't feel panicked.  I know this is a phase which will pass as surely as the moon waxes and wanes and the tides rise and fall.  So I'm just sinking into it.  Into the blazing evanescence of the red leaves, into the ready embraces of my children, into the white sheets on my bed.  Sinking in.  Turning in.  And it's okay.