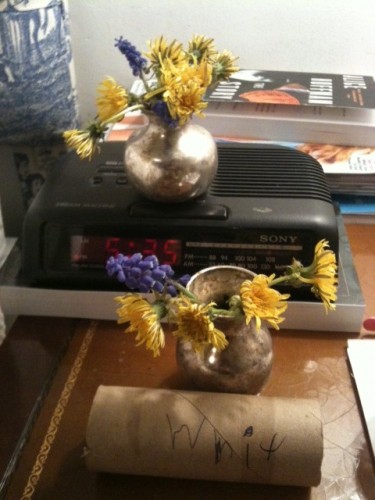 Grace and I are off to Kripalu today for Dani Shapiro's memoir workshop.  I can't wait!!  So, instead of a post, a few things that are making me happy right now:
Finding flowers on my bedside table from Grace and Whit yesterday (with Whit's marked with an old toilet paper roll: classic).  They had picked them at the park in between downpours yesterday afternoon.
Om Shanti, from Madonna's Ray of Light CD.  It reminds me of my trip to Feathered Pipe years and years ago.  And it still inspires me.
Loose, peasanty silk blouses by Rebecca Taylor (I have one leopard, one floral, and I am wearing them on repeat)
Cropped skinny white jeans (with the aforementioned blouses)
Peonies, peonies, peonies
J Crew boys pajamas (particularly the blue and white striped shorty ones with a long-sleeved top)
My new Mala beads from Tiny Devotions.  I swear I can feel their energy when I wear them.
Our plans to visit my sister and her family during their sabbatical next year for Christmas.  I can't wait.  Have to get my children passports (the fact that they do not, I think, horrifies my parents: by the time I was Grace's age I'd already lived in Europe for four years)
My morning green smoothie: pear, cucumber, spinach, ice cubes, coconut water, mint, agave, chia seeds
Please tell me, what is making you smile these days?