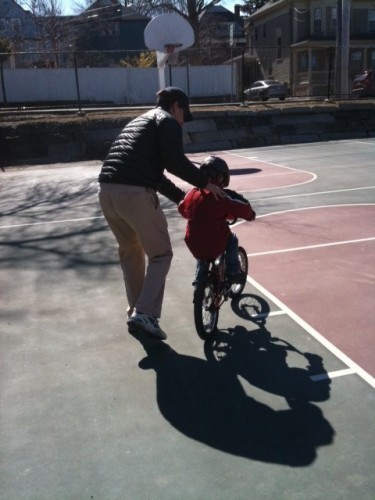 On Saturday Whit asked to try biking without his training wheels.  He's a cautious fellow, uninclined to try something new until he's fairly sure he can do it.  In the past he has been adamantly opposed to trying to bike on two wheels.  So we though we ought to jump on his new interest.  And we did.  Matt unscrewed the training wheels and off we went, two blocks up the street, to our park.
We decided to use the basketball courts because of how flat they are.  Matt stood behind Whit, helping him balance, and breaking into a slow jog, pushing Whit on the bike.  And like millions of parents before him, he let go. And Whit biked away.
He flew.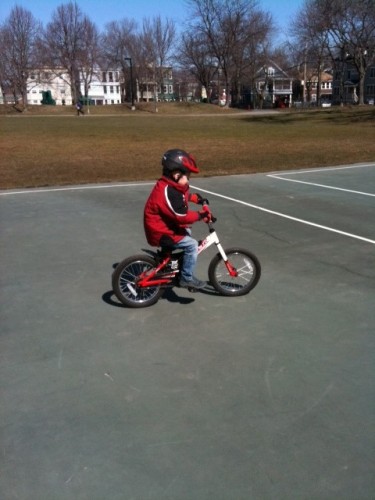 He biked on his own the very first time he tried.  When he slowed to a halt, disembarking inelegantly by letting the bike clatter to the ground, his face was lit by a huge, radiant smile.  He wanted to try it over and over again.  And so we did.  I stood back, my shadow vivid on the cement basketball court from the sun overhead, and I watched.  My eyes filled with tears.  This, so soon after Grace had pierced my heart with the heartbreakingly familiar I-want-to-be-littler comment.
Finally, we walked home.  Whit wanted to bike down our street to home.  I ran ahead and waited for him in front of our house.  As Matt got him started at the top of the street, I noticed a neighbor walk out onto her front porch on her way to her car.  She paused, watching Matt and Whit.  Her children are probably 5 years older than mine.  Watching her watching us, I thought: this is it.  This is one of those moments.  I had that powerful sense of observing myself even as I lived, that awareness, uncomfortable in its intensity, that I was passing over a threshold.  And then I turned to watch my youngest child pedal towards me down the street on two wheels.  And to hug him, fiercely, blinking back tears, after he made it all the way to me.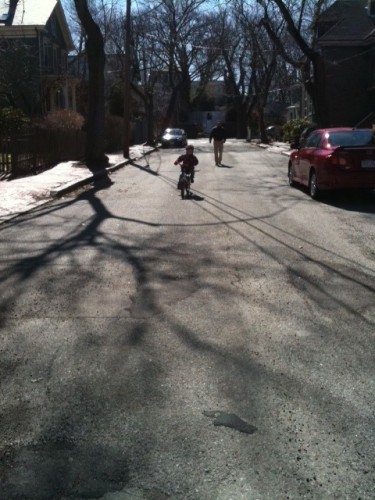 With special thanks to Kathleen Nolan, who reminded me of this poem:
To a Daughter Leaving Home
(Linda Pastan)
When I taught you
at eight to ride
a bicycle, loping along
beside you
as you wobbled away
on two round wheels,
my own mouth rounding
in surprise when you pulled
ahead down the curved
path of the park,
I kept waiting
for the thud
of your crash as I
sprinted to catch up,
while you grew
smaller, more breakable
with distance,
pumping, pumping
for your life, screaming
with laughter,
the hair flapping
behind you like a
handkerchief waving
goodbye.