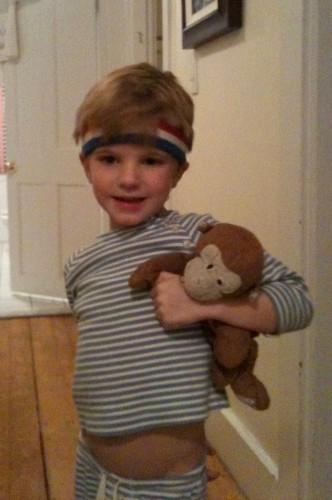 I just tucked this guy in for the last time as a five year old.  I came upstairs for goodnight to see that he'd accessorized his pajamas with this sweatband (which has been a favorite for a long time).  That's his monkey that he sleeps with every single night, who is (creatively) named Beloved Monkey.  He allowed me to hug him in his bed, because "snuggling is usually better in the bed," before moving to a sleeping bag on the floor, which is how he prefers to sleep these days.  He also sleeps naked most of the time.  But that headband?  Tonight, he kept it on.
It's hard to cry, which is my instinct on a night like this, when he makes me laugh so hard.
Goodbye, five year olds.
xo