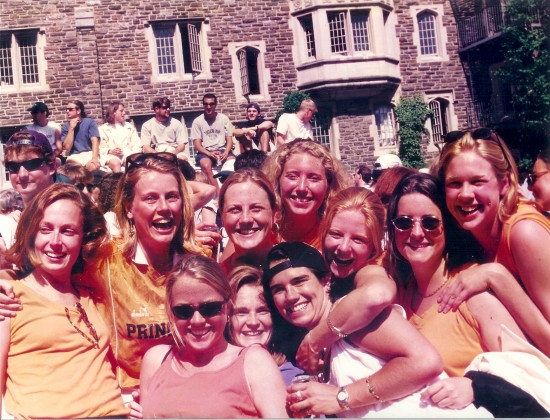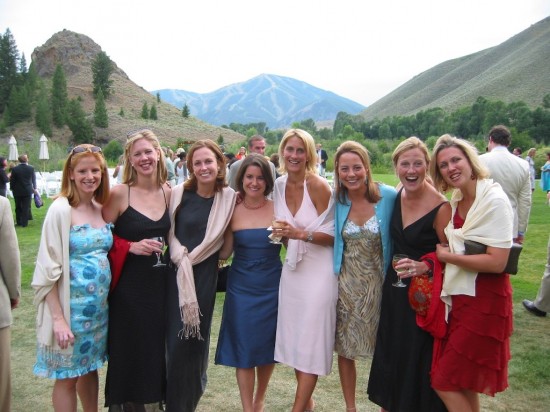 I showed up at Princeton anxious, nervous, and, I realize now, quite wounded from two very difficult years at boarding school.  I was incredibly fortunate to find, amid those Gothic towers, magnolia leaves, and foamy keg beer, at last, a place that felt like home … I found a group of women who embraced me.  I still felt insecure, and wondered why any of you would want to be my friend.  I still wonder that.  I look at this extraordinary group of women and cannot imagine why any of you, spectacular as you are, would want to be my friend.
And to think: we met half our lives ago.  We have known each other half of our lives, and that percentage is only going up from here.  Wow.
But today I am thinking of how young we all were then, how naive and optimistic.  The future unfurled in front of each of us like bright ribbon unspooling.  We were so sure, so confident, so silly.  And now I think about what has happened in the intervening 15 years.  Life has happened, and it contains great brightness, as we imagined, but also sorrow, darkness, and difficulty.  Some of us have faced great challenges.  We have witnessed so much in each others' lives: heartbreak, weddings, triumphs, divorces, funerals, christenings.  We've gotten on airplanes and behind the wheels to see each other, on the phone for hours at a time, and written thousands of emails.  We have shared huge moments and tiny ones, the latter sometimes, startlingly, more impactful than the former.
What we've done is no less than this: we have become adults together.
On graduation weekend, as we walked in the P-Rade together, wearing our matching orange Gap shirts, arms slung over each others' shoulders, hoarse with singing and beer, what did we know of what lay ahead?  We knew nothing.  What I wonder is whether it was all already engraved, invisibly but indelibly, on our paths?  Were the bumps and hiccups and detours preordained?  How much of the vast design is set from the start and how much of it unfolds like a series of choose-your-own adventure pages, each decision triggering the next?  I just don't know.
I do know that it will rain in all of our lives, and for some of us it will be in the form of a flash-flood monsoon and for others it will be a steady drizzle over the course of years.  And yet onward we move, arms linked as they were that hot day in Princeton in June of 1996, staggering now and then, but together, moving, always towards the finish line.  We have supported each other and will again, offering an ear, book recommendations, bottles of wine, and, most of all, patient, nonjudgmental witness.
I can feel you all next to me, your lives flanking mine, my first and most essential peer group.  We have traveled together into careers, graduate schools, marriages, motherhood.  Together we will face the aging of our parents and the growing up of our children.  We have more funerals ahead of us than behind, which is a thought both maudlin and unavoidably true.  We also have, I trust, myriad happy reunions, both formal and informal (thank you Allison, for Homosassa 2010!).  We have the joy of knowing each others' children and spouses, and of watching each other flourish.  The road is not as linear as I might have imagined all those years ago, when I felt the future sturdy, beating next to me like a heartbeat.  Instead our paths loop forward and back, double into unexpected switchbacks, but of this I am certain: you are with me and I am with you.  Always, no matter what.