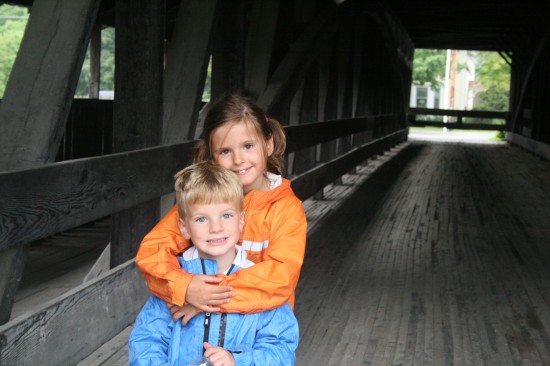 The universe has a way of timing things just right. Just days ago I was sad about summer ending, about the closing of this magical time with my children, these three months dotted with highlights and plenty of tiny moments in between.
And then they became monsters. Oh, wow, is it time for school. Something just flipped this past weekend and they are cranky and exhausted and thoroughly sick of each other's – and my – company. Suddenly the return to school, routines, and some time when they are not around sounds just lovely.
So, in short, it's been a long couple of days. And yet all of that fell away instantly tonight when I tiptoed into their bedrooms to kiss them goodnight. Whit in sleep till has the scent of baby-toddler wafting off of him, that freshly-bathed smell, something from the past drifting up to tug me back to those long-ago days when I rocked babies in that very same room.
I whispered to them both tonight, into the curled, flushed-ivory shells of their ears, about how sorry I am about my short temper these days, about how I regret the times I've snapped, about how I understand that they too sense change hanging around the edges of these days and that that makes them anxious. I thanked them for all of their energy and enthusiasm this summer, for their patience and their adventurous spirits that took us so many places, near and far, together. I pressed my lips to their cheeks, feeling the peachfuzz of their skin, closing my eyes to try, once again, to freeze time.
And then I murmured, to each of my children in turn, of how I loved them, always, always, no matter what. Of how I know them and I honor them and I witness them and I love them. I tried, as I do often, to pour my love into their sleeping selves, to fill them with it so there's less room for doubt and fear. I want to erect armor around their hearts so that they will always know that someone – maybe just this small person, but someone – loves them. I wish I could infuse their very bloodstreams with my love, so that they will never, for a single second, doubt that they are worthy, known, seen, loved.
And yes, I realize, this is what I want for myself too.