Last week Grace and I were sitting in the car with her friend who we had driven home from camp. We were waiting to drop her off and of course I was early so we had a few minutes to kill. Grace wanted to show Jessie a particular picture (I can't remember which one) so I handed them my iphone. They scrolled through all the pictures I have on it (which isn't actually that many, I seem to be the only person I know who deletes photographs after uploading them!).
Grace and her friend starting giggling and I turned around to look at them.
"What?" I asked. They looked at the screen, not at me (preview of things to come, surely). "Seriously, what?"
"Nothing, Mum," Grace said with a newly dismissive tone that has crept into her voice lately.
"Grace, your mum takes pictures of everything!" Grace's friend said, not unkindly, more in surprise.
"She does. This isn't even the half of it. She takes pictures of the sky a lot, and Legos Whit builds, and my art, and shoes, and our backs, and shadows, and glasses on the table and … wow, yes, she does!" Grace trailed off.
Yes, I do. I take tons of pictures of little random moments in our lives that I don't want to forget. These images can hold as much potent memory as the more traditional ones that I often show here, of Grace and Whit, smiling at the camera, together or apart. These seemingly random glimpses of inanimate things can reawaken for me all of the emphermal details of the experience, of who precisely I was at that specific moment. So yes, I do take pictures of "everything," and wow, oh wow, am I grateful for that.
Hadley's beautiful faded pink-gray hydrangeas.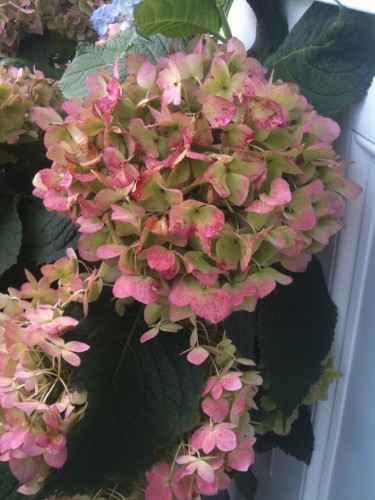 Favors for Whit's 3rd birthday party (personalized plates with each child's name and a drawing of a clown) all wrapped up the night before.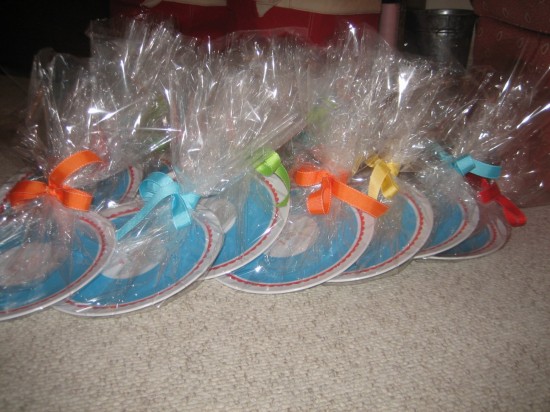 Sparkling rose, Diet Coke, and water, all lined up, at a celebratory lunch with Bouff.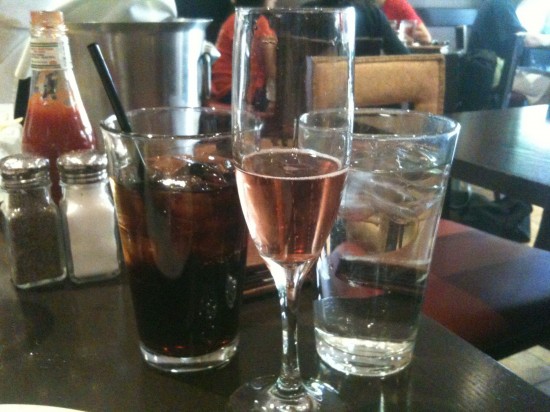 Spring peonies on my kitchen island.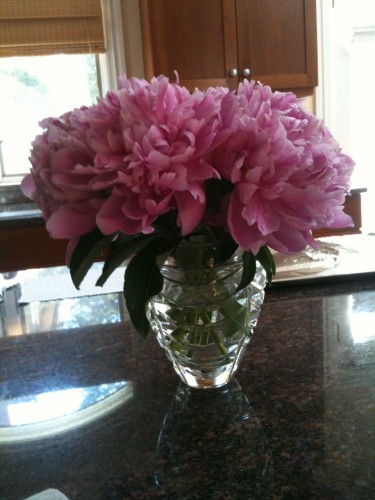 A breathtaking late summer sunset.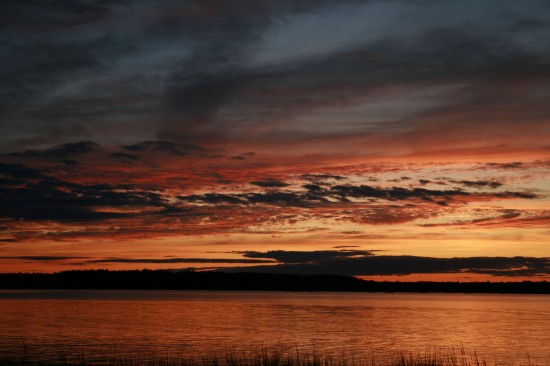 My feet standing in the lapping waves at the shore of the Marion beach.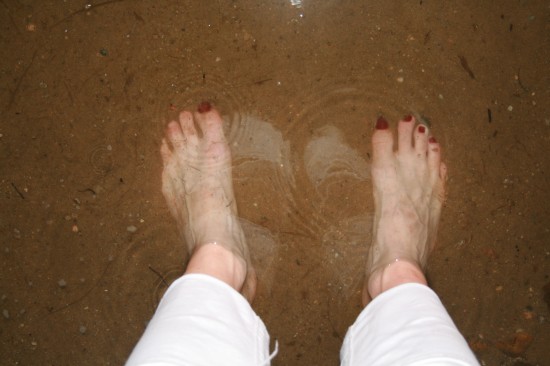 My shadow, with Grace and Whit on either side of me, cast against the concrete path behind my in-laws' house in Florida.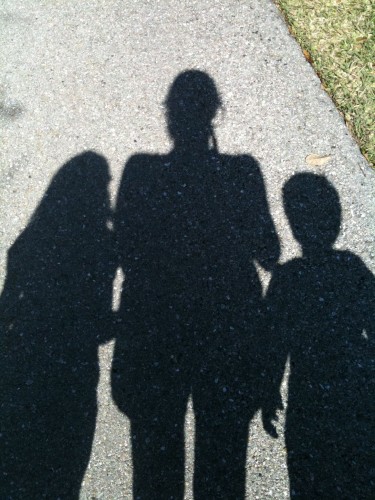 A dandelion, just proffered with enthusiastic affection by Whit.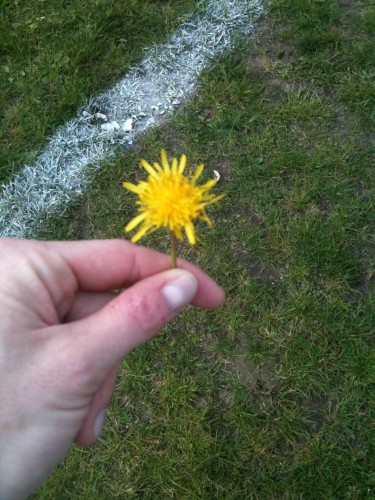 Grace's overnight bag, packed for a sleepover, half of which is taken up by her two well-worn, deeply-loved bears (creatively named Brown Bear and Yellow Bear).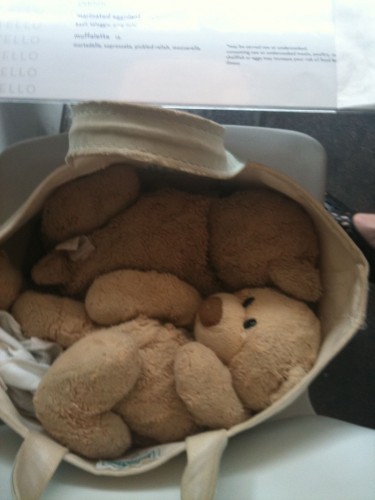 Two bright buckets.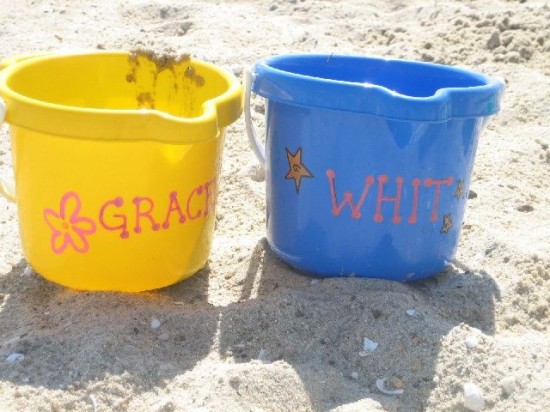 An ornament that I had made for the Christmas that Grace was just one, that she had just hung on the 2009 Christmas tree.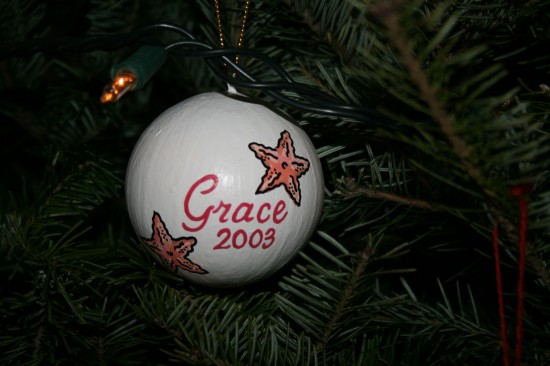 The scatter of yellow leaves on a wet autumn pavement.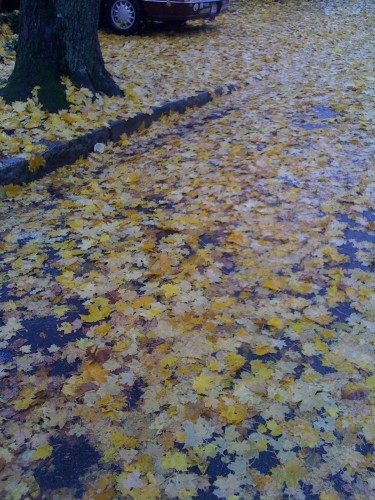 Must Stop Myself. I could bore you with hundreds, if not thousands, of photographs like these.
In truth, the random photographs like these are often just as evocative (and sometimes more so) than the more traditional family and friend photographs.