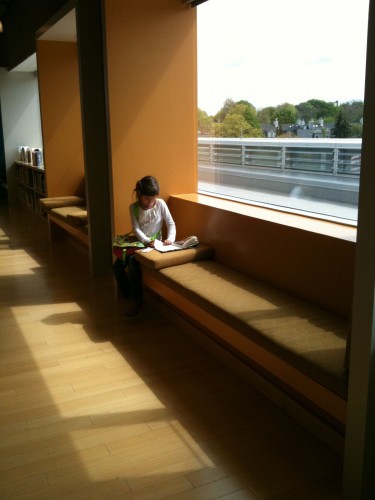 Grace, pensive at the library on Sunday.
I like the Hopper-esque light.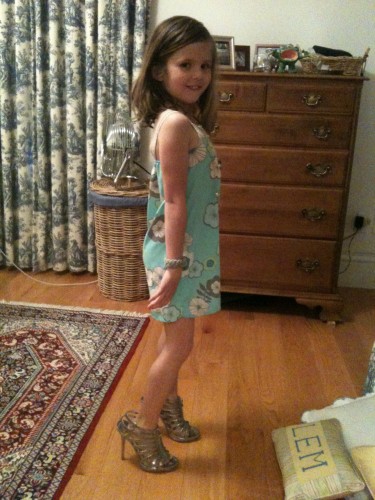 Sometimes I think I give the erroneous impression that Grace is serious all the time. She can be serious, yes, and she is certainly, more than anyone else, my clanging gong of truth and clarity, bringing me back to awareness.
But she's also a seven year old girl. Who likes a good giggle, Judy Moody, Taylor Swift, and, well … shoes. I came downstairs after putting Whit to bed the other night to find this. You can't really see that she is also draped with several sparkly necklaces she had hand-selected from my closet. And the shoes, which she had also picked out herself (from a fairly large set of options, I confess). Good taste, no? This child never met anything sparkly, spangly, or sequined she did not love. She may have been a Vegas showgirl (with an old soul and an introspective streak) in another life.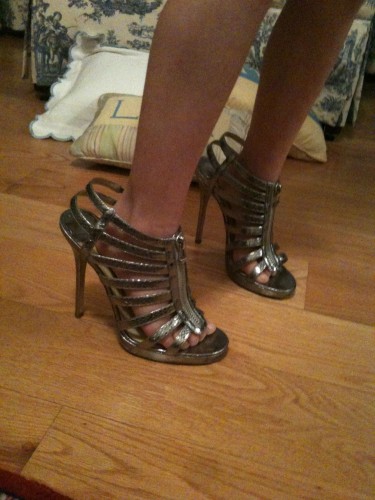 What strikes me most is how huge her feet are. She can wear these pretty soon.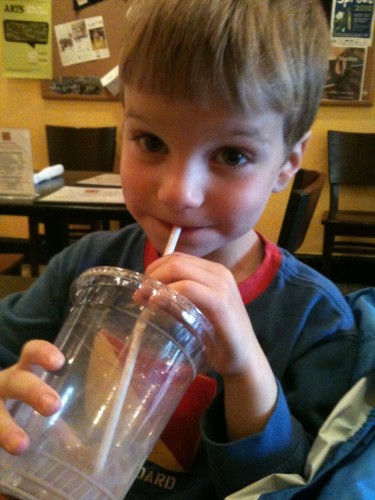 And, this guy. Where Grace is my grace, Whit is my wit. I didn't have any idea when I named them how they would come to embody these traits (well, Whit/wit, go with me, please). He is my clown (not the creepy kind), my reminder, always, to look at the hilarity that is there in every situation. His young soul and joyful spirit is such a nice counterpart to my more melancholic leanings.
On Tuesday night I took both the children out for pizza. After we sat down, the waiter arrived, asking for our drink orders. I've been encouraging them to place their own orders, because I think it's a good way to practice such important and incredibly difficult (why?) life skills such as looking someone in the eye. Grace ordered water. We all turned, expectantly, to Whit.
"A Lone Star, please," he said. The waiter's head snapped to look at me. He was clearly appalled and, simultaneously, trying not to laugh. I did a double-take at my own child and said, "He'll have a chocolate milk." My first reaction, I admit, was to be proud that he had said please.
But, a Lone Star? Where did he get this? We have never, to my knowledge, had Lone Star beer at home. Neither Matt nor I drink it. I have no idea. I immediately thought of the day that I asked him, shaking my head in resignation, "Where did you come from, Whit?" and he answered, point blank, "Texas."
Maybe he really is from Texas. Grace, as a baby, was nicknamed "Gracie Big Pants" because of the photograph below. To this day I still call her GBP. I have an LL Bean bag monogrammed "GBP." I'm thinking Whit From Texas needs one with "WFT" on it.