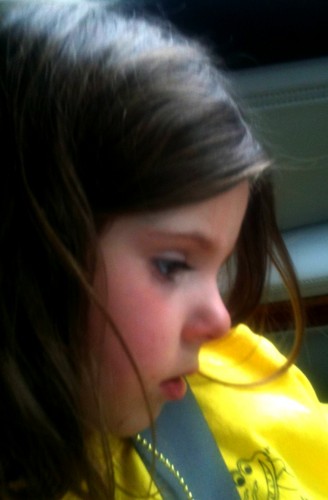 On our last day in Sanibel, Grace and Whit were horsing around in the pool. She dunked him aggressively and he was very upset.   My mother immediately reprimanded her, asking her to get out of the pool for a few minutes. Grace, in classic form, dissolved into tears. She sat on a chair by the pool, wrapped in a towel, hot pink goggles pushed up onto her forehead, forlorn and in full-blown pout mode.
Finally I asked her to come back to the condo with me and we walked, hand-in-hand but in silence, through the parking lot. She was sniffling and, I could tell, making a real effort to calm herself down. Often she asks for "deep breaths," where she sits on my lap or we hug and take deep breaths together – this has been effective but I am now thinking she needs to figure out how to calm herself down without me. Anyway, she was trying hard and I could tell.
We got to the condo and I turned on the tub for her, because she was freezing and her purple lips were chattering. As she stood in the bathroom, naked and shivering, I looked at her suddenly all-grown-up body. She is so tall now she comes up to almost my chest. She seems startlingly unfamiliar, lean and lanky, with endless limbs, though I can still see that faint birthmark, more texture than color, on her left hip. I remember noticing that birthmark for the first time when she was mere days old.
She turned to me and I could see she was still crying. Overcome with identification and empathy, I crouched down in front of Grace, realizing that she is at that awkward height where standing I'm too tall but crouching I'm too small. I looked up at her tremulous face. "Gracie?" she looked at me, a tear spilling over her right eyelid onto her cheek. "It's hard to be the older one, I know. Isn't it?" she nodded at me. "I was that, Grace. I know. Everybody expects you to be grown up all the time. It's hard, isn't it?"
Her face just crumpled. She leaned into me, hugging me awkwardly as she was now taller than I was. "It's so hard, Mummy. Sometimes I just get carried away and I lose control," she choked on her words, crying hard now. I pushed her away only so that I could look her in the eye. "I know, Gracie. I know," I said, firmly, "sometimes what you feel is really strong, isn't it?" She nodded mutely, tears flooding down her face. "I know, love, I know." I didn't know what else to say, so I folded her body, all angles and long, skinny bones into my arms. We stayed like that for a long moment until she broke the embrace, wiping her eyes. She looked at me and I could tell she felt embarassed. "Grace." I looked at her, almost sternly. "I know. And I know what a good, good girl you are, and how hard you try. I know. I promise. And I can tell you that your feelings, for the rest of your life, will be really strong. I still feel like I lose control sometimes. And it's scary."
She stared at me, a combination of fear and thanks in her eyes, and I could see how much she wanted to believe that I was being sincere. I think we both felt we'd revealed a lot, so she stepped into the tub and we moved on to other matters, but something essential happened in that bathroom. I saw a young version of myself and she saw that the strength of her emotions was going to be a lifelong battle. Yes, Gracie, I know what it is to feel out of control. I know what it is to feel pressure to be the "good one" and to do as others want you to do. I know all of those things. I wish I could teach you how to stop those feelings, but i can't. I honestly have no idea. I wish I did.