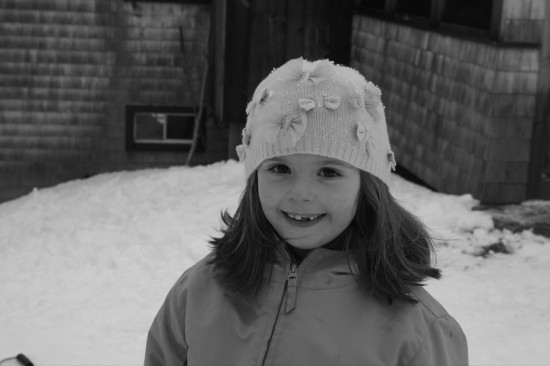 Grace's school report arrived yesterday. I was not aware that they were coming out, and as usual the detail and granularity of the teachers' comments and insight impressed me. Grace is having a great year. Forget her very good marks – what I was proudest of was the number of times different teachers (Jesus I had no idea how many special subjects she takes now – good God) commented on how she is thoughtful, aware of others, generous, and a good friend. As far as I'm concerned that goes a lot further than being good at counting by 10s.
One of the few places that Grace had a lower ranking was in "leadership instincts." This made me sad, because I think it reflects a growing timidity that I've observed, a certain muffling of her voice by anxiety. It also reminded me, of course of my own issues with taking charge and formally leading.
I told Grace that I was proud of her because her teachers said she was working hard. I mentioned how glad I was to hear that she was a good friend and she was kind and great at both listening and helping others. This praise did not change the fact that she was sad this weekend. I was reminded again that my little girl is as sparkly and as fragile as spun glass.
It was an ordinary Sunday. Grace, Whit and I took Matt to the airport mid-afternoon and then embarked on an afternoon of random errands that I tried to spin as an adventure. We took some change to the Coinstar machine (mysteriously, an absolute laser light show of excitement for my children). We went to the drycleaner (free lollipops help make this an ever-anticipated stop). We bought some lettuce and some bread. We took a ride on the subway (and then rode home, without exiting the station. This is one of my favorite activities with G &W, and I love that they are so easily entertained).
On the subway, Grace seemed quiet, and on the way home, she burst into tears. I asked her what was wrong. She shrugged and said, tears rolling down her face, that she just felt sad and didn't know why. My heart ached with identification, guilt and the desire to make her not sad anymore. At home she crumpled into a mournful little heap at the bottom of the stairs. The rest of the day she was quiet and tearful, repeating over and over that she was "just sad" and "didn't know why."
I reassured her that I knew this feeling (and how) and that I was quite sure it would pass. She clung to me as I tucked her in, thanking me for always cheering her up and making things better. The whole afternoon made me feel heavy with guilt about her "just sadness." There's no question in my mind this is my bleak influence; what I don't know is if it's a learned behavior from watching me or a trait inherited from the very fabric of my DNA. I don't think it matters much.
Once again I felt aware of the way I am a mother who is more shadow than sun, the way my complicated ambivalence plays occasional discordant notes into the song of my relationship with my children. My poor, poor daughter, tugging behind her the heavy freight of my moody melancholy. I imagine her pulling Whit on the sled up a snowy hill, her body bent forward with the effort of pulling such heavy weight, her feet slipping on the snow, her progress halting and excruciatingly slow.
Oh, Gracie. I am so sorry. I wish I could lift the weight of this birthright that I gave you unwittingly (but also, perhaps, inevitably). Your sensitivity is so familiar and so keen that I flinch to witness it displayed, as I did today. I have long believed in telling you the blunt truth (like when Whit asked if a shot was going to hurt and I hesitated before saying, quietly, "yes") so I won't pretend that there won't be many more "just sad" days. There will be.
There is much sadness, Gracie, much inexplicable darkness, and I too know the feeling of a wave of unanticipated and inchoate anguish sweeping you off your feet. When you thanked me for "making everything better" before bed, I told you firmly, fiercely, that it was my job to do that. It is my job to hold you during the sorrowful days, reminding you that at least you are not alone. It is also my job, maybe more importantly, to remind you of all the stunning joys and blinding light that exist alongside the gloom. There is so much more light than dark, Gracie, of that I am certain. I promise to help point it out to you.