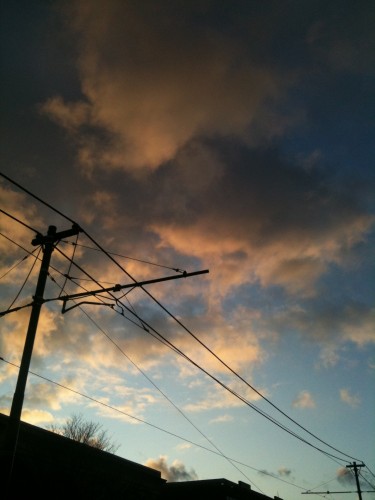 The sky tonight reminded me of a quote I love:
Openings come quickly sometimes, like blue space in running clouds. A complete overcast, then a blaze of light. (Tennesse Williams)
The sky from this picture actually changed and became almost all those dove gray clouds, but they were moving fast and occasionally showing a flash of luminescence, the kind of deep pink-orange that I associate with the insides of some seashells. The sky made me feel hopeful, for the first time in a long bleak day. And I thought about how openings – beginnings, surprises, love, joys – come quickly and surprise us sometimes. About how days that seem all fog can be lit, suddenly, incandescently – and then just as quickly return to impenetrable gray.
It is my nature to try to understand the source of these openings – if I can build a structure around why and when they come, perhaps they will come more often. At least this is how the logic of my flawed little mind works: forcing an order allows for control. But the truth is that these episodes – the stunning recognition of truth in a piece of writing, the sleepy kiss of a child, the awareness of something beyond the clouds – are meaningful because of, not in spite of, their capriciousness and whimsy. Really, the pink clouds that made me stop in my tracks behind the wheel today were the universe shaking a sheet of foil in my face, startling me into awareness with its reflected brightness, and saying: here. now.
Perhaps, then, there is nothing to do but to keep my eyes open. Even for me, who lives with her teeth clenched and her hands gripping the wheel so hard that if she had fingernails they'd be digging into my palms (but I've chewed all the nails off, conveniently avoiding this little discomfort), even for me, the skies blaze with light now and then. The stunning lambency of these moments – whether they be a radiant sky or the authentic embrace of a friend or the exquisite beauty of an ordinary moment with a child – breaks right through my carefully-crafted brick wall of defenses, and says: this is all that matters. This. This feeling, this buoyancy of the spirit. This. Here. Now.