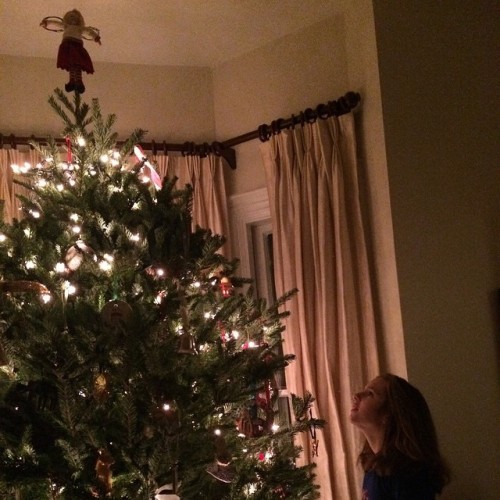 A favorite picture from right now, last night, which I shared on Instagram.
What I Learned Today in School – Jessica is my oldest and dearest friend, and she's also both a hugely talented teacher and a wildly beautiful writer.  I adore her reminder that school should be, her her words, "a space — real, imagined or virtual — of learning."  Her what I'm reading page is full of excellent suggestions and the brief, digestible stories she tells every day are inspiring and thoughtful.  I can't say enough about this beautiful, thoughtful new blog.
On Walking the Walk – I was so reassured by this piece on Yogapata, profoundly moved to hear the admission that we all sometimes struggle to do as we say.  This seems particularly true when it comes to the voices in our head; if we could all speak to ourselves with the compassion and love that we so often show to others, things would be entirely different.  I highly recommend this short essay.
51 of the Most Beautiful Sentences in Literature – This Buzzfeed article was just like reading one long, glorious exhale.  What a reminder of the crystalline power of language to move us, touch us, make us less alone, make us see the world in a different way.  There were sentences I know well and those I'd never heard before on here.  Reading this list reminded me of how much I want to re-read Four Quartets, so that's on my bedside table now.  So many of my favorites and many that I've shared on this blog are on this list (Rosencrant & Gildenstern, Cheryl Strayed, Eliot, Harry Potter).  Wonderful, wonderful, wonderful.
Embrace the Intrusions – I adore this piece by Andrea Jarrell, which I just found.  She beautifully evokes the push-pull demands and complicated myriad identities that mother-writers, especially those with young children, often feel.  I love the advice to embrace the intrusions.  This piece reminds me of Anne Tyler's quote that "it seems to me that since I've had children, I've grown richer and deeper.  They may have slowed down my writing for a while, but when I did write, I had more of a self to speak from."
I just read Mary Oliver's latest book, Blue Horses
, and am reading my friend Rebecca Pacheco's Do Your Om Thing: Bending Yoga Tradition to Fit Your Modern Life
, which comes out this spring.  I look forward to reviewing closer to the release date but suffice it to say that I love this book.
I'm also ready to say that my top 3 novels of 2014 were All the Light We Cannot See
by Anthony Doerr, Euphoria
by Lily King, and Station Eleven
by Emily St. John Mandel.
What were your favorites of the year?  What should I read over the holidays?  What's on your mind, your bedside table, your kindle, and your heart lately?
I write these Things I Love posts approximately monthly.  You can find all of the previous ones here.