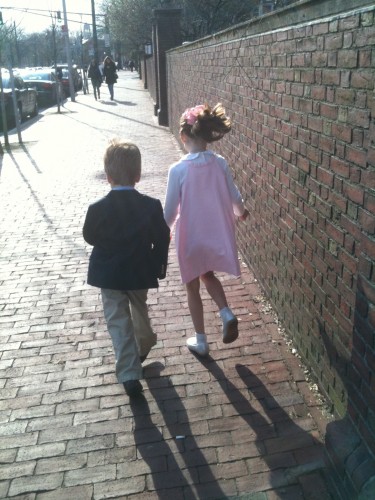 Easter morning.  Always, they are walking away.
The way Whit's shoulder blades feel like little wings, jutting gently out of his back, with its clearly articulated string of pearls of a spine.
Grace kneeling on the floor by her orange-canopied American Girl doll bed, tucking Samantha and Julie into bed next to each other. The way she earnestly changes them into their pajamas before bed and back into clothes in the morning.
Reading picture books to Grace and Whit over breakfast in the morning, sitting between them at the little square kitchen table, the way just the offer of reading is able to defuse the rowdiest sibling argument.
Whit dragging a kitchen chair over to the island and standing on it, stirring a bowl of cookie or brownie batter. His careful cracking of eggs into the bowl.
The way Grace's face lights up when I take the time to turn, look at her, and join her in singing along to a song on the radio.
The "ghostie dance" that Whit demands that I do every night, to make sure that no ghosts bother him while he's sleeping. Similarly, the way my patented "sweet dreams head rub" can help either child back to sleep when nightmares wake them up.
The view from my office, the beloved square of the world that I gaze on for hours a day. Today the big tree across the street is covered in pale green blossoms, and casting faint shadows onto the slate mansard roof of the house across from us.
Hearing Grace and Whit talking to each other through the heating duct in the wall between their rooms. They figured out this was a way to communicate, an in-wall tin can telephone of sorts, and hearing them stage whisper to one another from their enforced personal "quiet time" makes me both laugh and cry.
The afternoons that we dance to Miley Cyrus in the kitchen, when I gave in to an all-too-rare giggle and abandon myself to the sheer joy that both Grace and Whit seem to inhabit hourly.